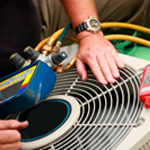 With regular maintenance you will prevent small problems from becoming big problems and ensure optimal performance of your comfort system. We also offer annual service agreements, which can reduce the cost of a Performance Tune-Up.
Regular maintenance will:
Provide longer lasting equipment
Reduce utility bills
Reduce repairs
Provide a more comfortable indoor environment
Protect your investment
What we do during a Performance Tune-Up:
16 POINT SPRING MAINTENANCE AUDIT
Install gauges and check all operating pressures.
Check voltage.
Check amperages.
Check for adequate refrigerant charge.
Check suction charges.
Check that crankcase is operating.
Lubricate all moving parts.
Check belts and adjust tension.
Check filters.
Check all electrical connections
Check starter connections
Clean and adjust thermostat.
Check air temperatures across indoor coil.
Check air temperatures across outdoor coil.
Check for noise and vibration.
Clean drain lines.
FALL MAINTENANCE ON HEAT PUMPS
Same as Spring Maintance Audit Plus:
Check reversing valve operation.
Check defrost controls.
Check supplementary heaters.
Check valves.
Check emergency heat switch operation.
Our On-Demand Performance Tune-Up has a value of $160. We also offer annual service agreements starting at $165 and $125 for each additional system.